W-SERIES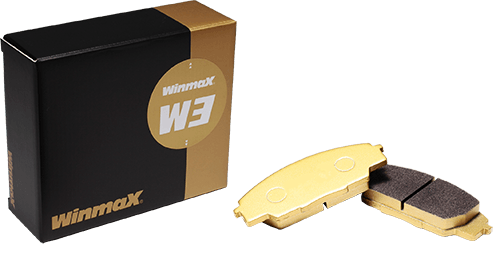 W1
Low dust, Low noise exclusive for street use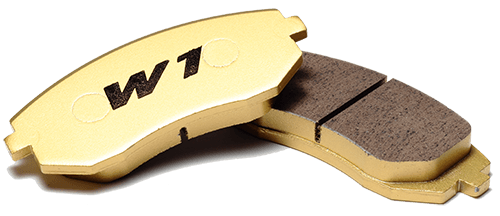 FEATURES
| | |
| --- | --- |
| Applications | Street |
| Ave Friction | 0.29~0.32 |
| Temp Range | NT~500℃ |
| Material | Non Steel |
Everyday Street use
Very gentle to Brake disc
Upgrade level of OME brake pad
W2
Extra sportive street use

FEATURES
| | |
| --- | --- |
| Applications | Street |
| Ave Friction | 0.32~0.35 |
| Temp Range | NT~550℃ |
| Material | Non Steel |
Everyday Street use
Track days with a very performant use
Rear of small front-wheel drive rally or race car
W3
High performance street and sprint race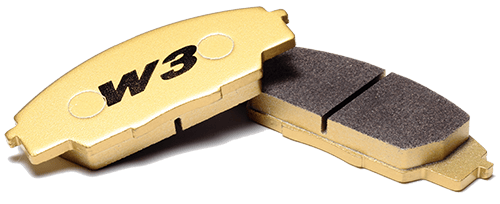 FEATURES
Applications
Sportive Street use
Sprint Race
Ave Friction
0.34~0.37
Temp Range
NT~650℃
Material
Low Steel
Blended for sport driving or short circuit racing
Minimized brake dust while providing the best braking control
The Most "versatile" brake pad
W4
Superb control for sprint race

FEATURES
| | |
| --- | --- |
| Applications | Sprint Race |
| Ave Friction | 0.37~0.40 |
| Temp Range | 50~700℃ |
| Material | Low Steel |
Designed for sprint race that reqiries suprior braking control
Excellent torque control
For sprint racing of lightweight cars
W5
High Performance for club racing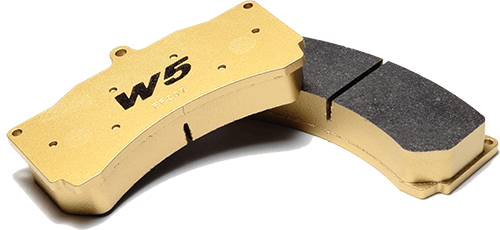 FEATURES
Applications
Race
Rally
Ave Friction
0.40~0.43
Temp Range
100~750℃
Material
High Steel
Excellent balance between effctiveness and braking control
Standard model for circuit
W6
Competition with a rally or race car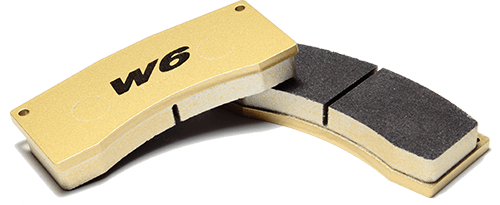 FEATURES
| | |
| --- | --- |
| Applications | Race |
| Ave Friction | 0.45~0.48 |
| Temp Range | 200~800℃ |
| Material | High Steel |
Excellent balance between effctiveness and wear resistance
Made for harsh motorsports conditions such as Rally racing.
W6.5
Competition brake pads for rally and hillclimb

FEATURES
Applications
Race
Rally
Ave Friction
0.47~0.50
Temp Range
50~800℃
Material
High Steel
Designed for excellent initial bite and effectiveness at the lower temperature.
Steel based compound designed for use in rallying
The very best rally pad on the market.
W7
Professional high level racing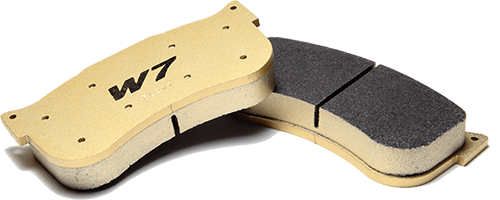 FEATURES
| | |
| --- | --- |
| Applications | Race |
| Ave Friction | 0.48~0.53 |
| Temp Range | 100~850℃ |
| Material | High Steel |
The most effective and heat-resistant of all the W Series products
Full race brake pads for pro circuit & rally racing
Appendix
The most effective and heat-resistant of all the W Series products
Full race brake pads for pro circuit & rally racing
WE1
Endurance racing competition

FEATURES
| | |
| --- | --- |
| Applications | Endurance Race |
| Ave Friction | 0.38~0.42 |
| Temp Range | 300~700℃ |
| Material | High Steel |
Excellent wear resistant at extended endurance races
Designed for endurance race up to about 3 hours